Sand Making Machines, YE 900 & YE 1000 VSI, Manufacturer, Supplier, Exporter, Service Provider, Pune, Maharashtra, India. Majorly we export our products to customers from Gulf, Asian, African countries like Saudi Arabia, Doha, Bahrain, Kuwait, Oman, Muscat, Iran, Turkey, Yemen, Lebanon, Afghanistan, Bangladesh, Bhutan, Brunei, Burma, Cambodia, China, Hong Kong, Indonesia, Iraq, Israel, Japan, Jordan, Kazakhstan, North Korea, South Korea, Kyrgyzstan, Laos, Lebanon, Malaysia, Maldives, Mongolia, Nepal, Pakistan, Philippines, Qatar, Singapore, Sri Lanka, Syria, Taiwan, Tajikistan, Thailand, Timor-Leste, Turkmenistan, UAE (United Arab Emirates), Uzbekistan, Vietnam, Yemen, Egypt, Algeria, Ghana, Ethiopia, Nigeria, Congo, Uganda, Kenya, Sudan, Tanzania, Zambia, Angola, Zimbabwe, Namibia, Mozambique, South Africa, Mauritius etc.
Sand Making Machines (YE 900 & YE 1000 VSI)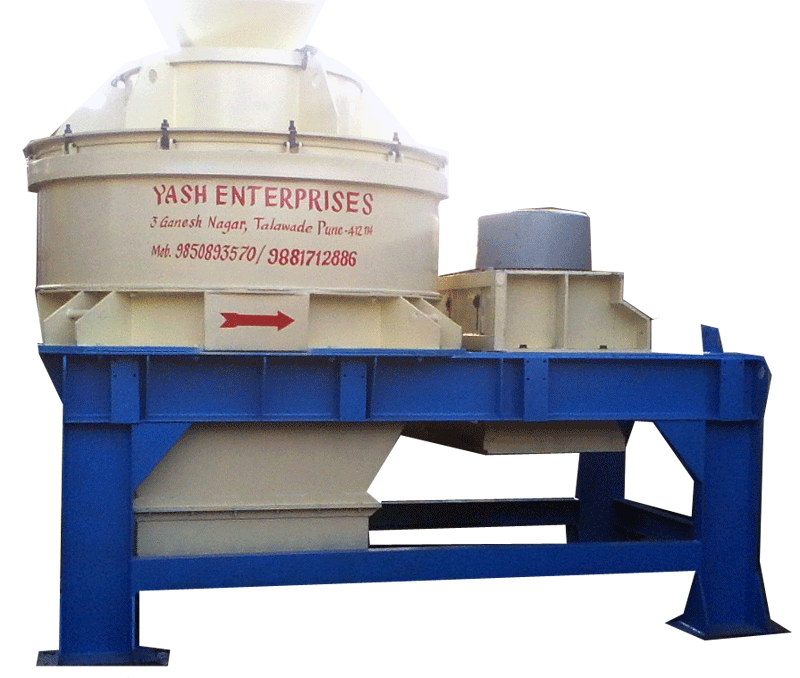 YE 900 & 1000 VSI ( Sand Making Machine )


Our VSI Sand making Machine have an autogenous working principle
Designed for tertiary and quaternary applications, they can handle anything From hard and abrasive rocks to soft, moist and even sticky materials.
Used in quality aggregate production for concrete products, road construction And dam production, to mining industries used as pre-grinders to mills resulting In huge power saving .They give excellent product shape and are also ideal for crushing minerals, slag clinker and glass.

Features and Benefits
(a) Low capital cost, low runny cost per tonne.
(b) Easy replacement of parts.
(c) Good cubical of controlled high production.


Specifications


| | | |
| --- | --- | --- |
| Key Specifications | YE900 | YE 1000 |
| Feed size | o to 40 | o to 40 |
| Motor HP | 150 to 180 HP | 180 to 240 HP |
| Capacity | 120 to 150 TPH | 180 to 200 TPH |
| Length | 3500 | 3800 |
| Width | 1800 | 2000 |
| Height | 3500 | 3500 |
| Weight | 8000 to 10000 kg | 9000 to 12000 kg |
| Rotor RPM | 1200 to 1600 | 1000 to 1400 |